I love all of the ladies (past and present!!) who have so willingly shared their fabulous-ness with us at I2S! Here's who's on board helping me out right now. 🙂
Guest Designer- Lisa Hidy
Hi, my name is Lisa Hidy, I live in Fort Worth Texas. I started scrapbooking soon after my son was born over 17 years ago. Like many I was introduced the subject at a home party. When my Mom was invited to one and didn't want to go she made me go along for the ride and encouraged me to buy something so she didn't feel obligated to! The rest is history! Now besides scrapbooking I love to make cards and most recently due to my fun loving scrappy friends at Inspired 2 Scrap I am also making pocket letters! I love talk radio, I'm a huge football fan, avid college basketball fan, lover of books, history and traveling. I love watching my son perform in his high school band (and soon college band as well!). I enjoy sharing all things papercrafting with others who share my passion so about 3 years ago I started a challenge blog with a friend called Sketch N Scrap (http://sketchnscrap.blogspot.com). About two years ago I also started a card ministry at my church to help support our women's ministry outreach for a women's shelter. I hope you will stop by my personal blog My Creative Endeavors (http://createdbylisa.blogspot.com) and say hi, I'd love to hear from you!
Our Digital Guru-
ANGIE-
My grandmother introduced me to memory keeping years before I found the craft of scrapbooking. Even though she's been gone for well over a decade, I can vividly picture her living room closet shelf, filled with photo books, all neatly labeled and chronologically ordered. I began as a paper scrapper, and I still have lots of paper scrapping projects to do, but for the last few years, I've been using CM's Storybook program for digital scrapping. The great thing about using Stacey's sketches digitally is that it is so easy to reuse them in many projects! Once you have a digital template, it's a simple matter to fill in with papers and photos. Just like paper scrapping, you can easily make the sketch your own, and get a whole new look each and every time you use it! I love working with Stacey's sketch templates, and I can't wait to see everyone's work during class!
And a little bit about me-
Stacey Lokovic – Inspired to Scrap site owner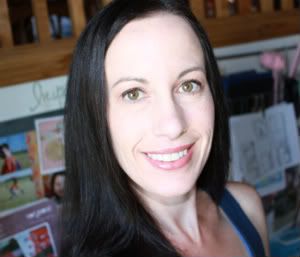 Hello everyone! I am a scrap-at-home-mama (oops, stay-at-home! 😉 ) to three little ones ages 9, 7 and 5. Needless to say, they keep me very busy between school, sports and other activities-not to mention just by being themselves! My husband, Jeremy, has always been very supportive of everything I do, including scrapbooking. Besides scrapping, I love camping, exercising, reading, cooking, baking, sewing and working on all types of crafts.I have been scrapping for about 18 or so years but I have always been a collector of memories and photos. I love scrapping and finding new inspiration to keep it fresh. A couple of the main reasons I started Inspired to Scrap was first, to share encouragement and inspiration with my fellow scrappers and second, provide us all with a safe and supportive online home. 🙂
In college, I studied English and journalism. Then, I was a teacher for five years before my first child was born. I love being able to teach classes online about subjects I love through Inspired to Scrap.
One of my favorite ways to be inspired is to use sketches. I loved sketches from the moment I first tried them many years ago! I started creating my own sketches around 2007 and have been hooked ever since. I started out using my computer to create them but I felt limited by my computer knowledge so I switched to good old-fashioned hand creating them after about 35 digital sketches. Art was one of my favorite subjects in and out of school…and pencil drawing was my specialty. I love sitting with my ruler, notebook, a favorite pencil and getting to work…there's something wonderful about the act of drawing!
I am so thankful to everyone who is here at I2S to be inspired along with me! Each of you has a special place in my heart and I cherish all of the conversations, layouts, recipes and more we share. I hope you will continue to spend time here as we find new ways to be inspired to scrap together!