Thank you so much Stacey for this opportunity. I've really enjoyed putting this tutorial together.
Just recently I've discovered Washi Tape and I am in love! For those of you that don't know what it is….it's like paper tape.  I don't want to say that Washi Tape is expensive  but  buying  in the rolls one would get stuck with the same design to use over and over and I just know how easily I get bored.  AND I really like the whole 'make it myself ' thing. It's just fun to make something and satisfy that creative beast in me! (LOL ) I like re~using things like tissue paper from gift wrap or brown paper wrap that comes in a box from something you've ordered. Why toss it when you can reuse it!? So I discovered how to make my own by doing some research on the internet. I'm excited to share with all of you but please be aware that this is my 1st time doing a tutorial and I am hoping I didn't take too many pictures.
You want to use double sided tape with the waxy paper backing on it. Much like the roll you can buy from Creative Memories, or at craft stores Like Hobby Lobby or Michaels.  I bought mine online from Viva Las Vegastamps because it is very cheap overall compared to the others because YOU GET A LOT and I think it might tear easier when you go to put it on your project.  It is called Miracle Tape. Here's the deal……When you sign up for their newsletter they frequently run sales where they give discounts codes….and that is when you stock up!! You get 165 ft X what ever width you order. They offer several different widths. Next time I order I am going wider so I can use some of my larger stamps on this! Here is their Website:  www.vivalasvegastamps.com
I made my tutorial in a collage. I love collages and I thought this was the best way to demonstrate this for you since I had so many pictures. I hope you can understand my instructions.
and then you….
and then…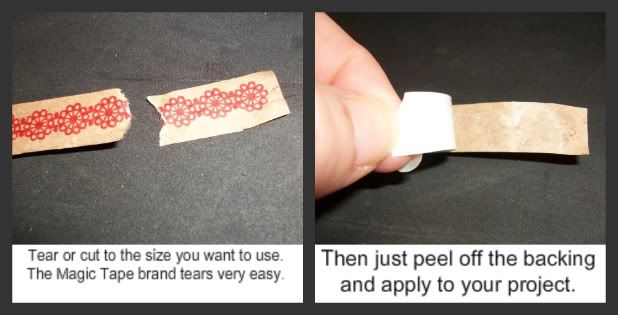 Here I used some of my Washi Tape on Layouts…you could also use on cards. I tore three pieces and placed in the upper left corner and above the angled picture of my husband, Jim and I.
A closer look at this one. You can see that you can even use wrinkled issue paper to get a more distressed result. I stamped on my phrase and then I inked around the edges.
This is just a strip that I stamped a short phrase across.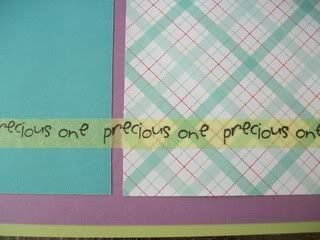 I am still pretty new to this so I have yet to explore more with my stamps and this wonderful Miracle Tape . I hope you enjoyed my tutorial and will give this a try. I'd love to see what you come up with. Thanks for looking!
~Joyce Yonke http://www.joycesyappenings.blogspot.com